Felix Hayes
 

For the National: Peter Pan, Jane Eyre

For the RSC: The Tempest, The Comedy of Errors, Twelfth Night, A Midsummer Night's Dream, Cardenio, The City Madam

Other theatre includes:101 Dalmations, Ali Baba and the 40 Thieves, The Pickled King, Archie's Arcade

 

…
Continue
No program is currently running.
For the National: Peter Pan, Jane Eyre
For the RSC: The Tempest, The Comedy of Errors, Twelfth Night, A Midsummer Night's Dream, Cardenio, The City Madam
Other theatre includes:101 Dalmations, Ali Baba and the 40 Thieves, The Pickled King, Archie's Arcade
A Gert Lush Christmas, Friday Night Dinner
(Published July 2015. Photo: Toby Farrow)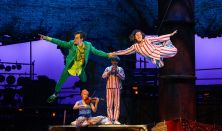 Peter Pan - NT Live
RIALTO THEATRE
Smee / Mr Darling / Twin Two / Ensemble
Warning! The basket time limit is about to expire!
estimated time left:
00:00
Time limit has expired. Please, put item(s) in to basket again.
---