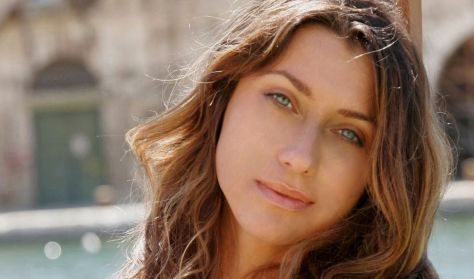 Klaudia Delmer
Η Klaudia Delmer μεγάλωσε στην Ισπανία σε μια πολυεθνική οικογένεια. Αφού ολοκλήρωσε τις σπουδές της στην κλασική μουσική στο Mannes College of Music της Νέας Υόρκης μετακόμισε στην Ελλάδα. Μπήκε στην δισκογραφία με το πρώτο της solo album "Ainola". Υπήρξε συνιδρυτής και καλλιτεχνική διευθύντρια (2006-2013) του Φεστιβάλ Πολιτισμικών Διαλόγων…
Continue
No program is currently running.
Η Klaudia Delmer μεγάλωσε στην Ισπανία σε μια πολυεθνική οικογένεια. Αφού ολοκλήρωσε τις σπουδές της στην κλασική μουσική στο Mannes College of Music της Νέας Υόρκης μετακόμισε στην Ελλάδα. Μπήκε στην δισκογραφία με το πρώτο της solo album "Ainola". Υπήρξε συνιδρυτής και καλλιτεχνική διευθύντρια (2006-2013) του Φεστιβάλ Πολιτισμικών Διαλόγων Ίκαρος στο νησί της Ικαρίας. Στην Ελλάδα έχει εμφανιστεί στα πιο γνωστά θέατρα όπως το Ωδείο Ηρώδου Αττικού και στα Φεστιβάλ Αθηνών και Επιδαύρου, το Φεστιβάλ Σάνι, το Φεστιβάλ στη Σκιά των Βράχων και πολλά άλλα. Έχει συνεργαστεί με κορυφαίους Έλληνες συνθέτες και μουσικούς όπως ο Μίμης Πλέσσας, που έγραψε πρωτότυπη μουσική για το δεύτερο σόλο άλμπουμ της "La Mar-Δρόμοι της θάλασσας ", ο συνθέτης Βαγγέλης Φάμπας κ.α., καθώς και με τις ορχήστρες Εθνική Συμφωνική, της Ελληνικής Ραδιοτηλεόρασης, την Ορχήστρα των Χρωμάτων κλπ. Παράλληλα συμμετείχε σε πολλά άλμπουμ παραδοσιακής και σύγχρονης ελληνικής μουσικής. Τα τελευταία επτά χρόνια ζει με την οικογένειά της στην Μεσσηνία.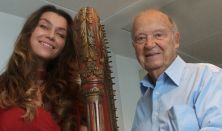 Μίμης Πλέσσας - Klaudia Delmer
RIALTO THEATRE
Warning! The basket time limit is about to expire!
estimated time left:
00:00
Time limit has expired. Please, put item(s) in to basket again.
---