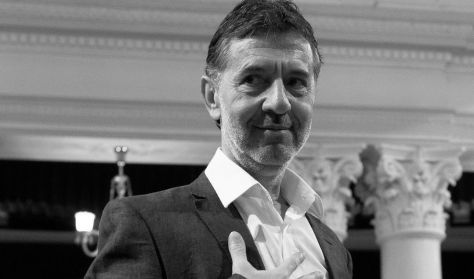 Yiorgos Karvellos
Ο συνθέτης Γιώργος Κάρβελλος έκανε τις μουσικές του σπουδές στο Πανεπιστήμιο του Καρόλου στην Πράγα.
Το έργο του εκτείνεται σε ένα ευρύ φάσμα μουσικών ειδών, από τη συμφωνική μουσική και τη μουσική δωματίου μέχρι τη θεατρική και την κινηματογραφική μουσική.  
Έργα του έχουν ερμηνευτεί από…
Continue
No program is currently running.
Ο συνθέτης Γιώργος Κάρβελλος έκανε τις μουσικές του σπουδές στο Πανεπιστήμιο του Καρόλου στην Πράγα.
Το έργο του εκτείνεται σε ένα ευρύ φάσμα μουσικών ειδών, από τη συμφωνική μουσική και τη μουσική δωματίου μέχρι τη θεατρική και την κινηματογραφική μουσική.  
Έργα του έχουν ερμηνευτεί από σημαντικά μουσικά σύνολα στην Κύπρο και στο εξωτερικό, όπως η  Συμφωνική Ορχήστρα Κύπρου, η Συμφωνική Ορχήστρα της Βουλγαρικής Εθνικής Ραδιοφωνίας, η Κρατική Συμφωνική Ορχήστρα Ουκρανίας, το Quasars Ensemble, το Τρίο Αθηνών, το Mediterranian Trio κ.α.  Έχει γράψει μουσική, για το ΡΙΚ, τον ΘΟΚ, την ΕΘΑΛ, το Θέατρο Αντίλογος, καθώς και για σημαντικές εκδηλώσεις όπως η πανηγυρική συναυλία για την ένταξη της Βουλγαρίας στην Ε.Ε. (2007),  η «Κυπριακή Άνοιξη» στο Μόναχο, το "Kosice 2013" – Πολιτιστική Πρωτεύουσα της Ευρώπης, οι «Κυπριακές Μινιατούρες» στο Βερολίνο και το Διεθνές Φεστιβάλ Κύπρια.  
Είναι μέλος του Κέντρου Κυπρίων Συνθετών.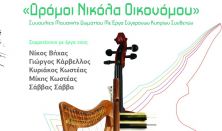 Δρόμοι Νικόλα Οικονόμου
RIALTO THEATRE
Warning! The basket time limit is about to expire!
estimated time left:
00:00
Time limit has expired. Please, put item(s) in to basket again.
---